Last night I woke up around 2 am and heard one of the girls saying "uh oh" over and over. (which in my opinion, is one of the cutest phrases they have) so I go in to see what's wrong, it turns out that she dropped her pacifier. What a cutie.
IN other news, look what I found growing in my ditch! (that's where all the good stuff grows on my property)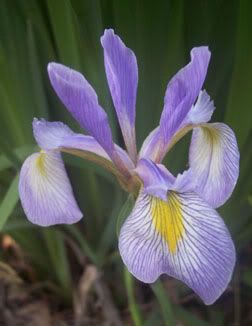 I'm fairly certain it's an iris. When I found it, you better believe I got a shovel and dug some of them up to replant in my garden. I left a bunch down there (with a huge crop of tiger lilies) that I'll go back after when I figure out what I'm going to do with them.