Meet Dirty Harry.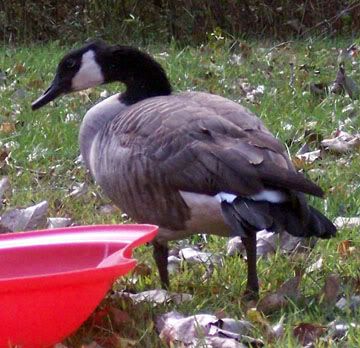 He showed up on Friday, and hung out next to Alex's sand box for at least a day and a half. We were afraid he was going to hang out all winter long, so we named him. He must not have liked the name we picked for him, because he was gone when we came back from church on Sunday. Oh well.
Alex got to spend part of the weekend with Grandma. My mom came and got him on Saturday night, and kept him over night. After church she took him with her to the lake house. It's amazing how much easier my job is when 1/3 of my children are absent.
Yesterday after church I went to teach my Sunday school class. I haven't talked much about my Sunday school experiences in this journal yet, but I have so much fun every week. So here's a little about look at my Sunday mornings. I teach the kindergarten/first grade group. My co-teacher is James. He's about 18, and excellent with children – especially boys. Some weeks we have as many as 4 adults (like we did yesterday) sometimes it's just us. He and I taught the kindergarten group last year, so we know the first graders in our class pretty well, and we've taught together enough that we have sort of a rhythm – you do this, I'll do that. No problems. – Now I have to say that our teaching style is rather wacky. Ok I'll admit it, my teaching style is really wacky, and James sort of just laughs at me. Normally it's cool, but yesterday we had 2 adult helpers who weren't used to our teaching style, I'm afraid of what they were thinking.
In our class, we have anywhere from 8-15 kids, who are usually done learning about 20 minutes before the parents arrive to get them. When I say "done learning" I mean they are tired of sitting in a chair doing seat work – can't say I blame them. Which makes life interesting for the teachers. We try to do some kinesthetic learning activities to fill time (lessons that include movement) but usually we just end up playing duck-duck-goose. (which is why I'm so thankful for having a teenager as my helper - he plays, I clean up)
Not all the kids in the group are the stereotypical church family-well behaved-child. I have some real troublemakers who cause problems on a regular basis. James to the rescue. He's so good about getting the troublemakers attention focused on whatever little thing he's doing, and away from causing trouble.