Jory takes matters into his own hands
To preface the story, jory is always complaining that annie's hair is in her eyes (which is why it's always in a pony tail of some type). Last night I went to a meeting for VBS, and left Jory in charge of getting the kids to bed. This is what Annie's hair looked like when I woke up this morning.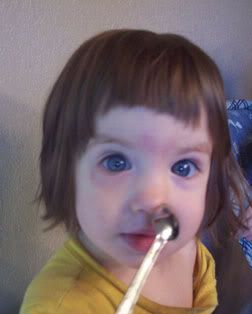 Jory insisted that he didn't cut it (yeah right!) (love you sweetie~)
maybe it'll look ok when I get it up in a ponytail...