I mean Jake.
Jory's brother Jake was here from Joplin (Missouri) visiting over the weekend. He and Jory had fun riding their motorcycles, playing video games and just being boys together. I think Alex had fun with Jake's toys also…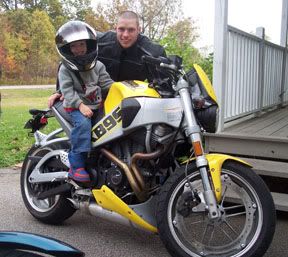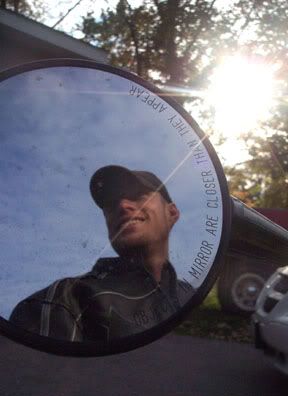 As for my weekend, it was relatively uneventful. I was on baby duty most of Saturday while the boys played. Sunday after church I went over to my mom's house so Jory and Jake could do their guy thing with out feeling guilty that I was stuck with the kids again. Mom and I took the kids shopping for winter coats. I had to go to 4 different stores before I could find winter coats that fit the girls that had NO FUR ON THE HOODS. I'm not crazy about that fashion trend, and am rather annoyed that EVERYTHING I saw had fur on it. Shopping for boys is so much easier.
This morning I spent a good chunk of time creating my own playlist in Winamp. I've been using the main playlist that Jory made, but there were like 1500 + songs on that list, and I only liked about ¼ of them. So I decided it was time for me to have my own playlist. Mine only has 378 songs in it so far and THEY ALL ROCK. Right now I'm jamming to REO Speedwagon – and I hope no one is looking cause I probably look like a big geek!